The Samaritans
I was asked to design poster and website landing page for Samaritan's organisation. It was an University project that I did in my final year when studying for my BA (Hons) Degree. It was an open brief and I picked The Samaritans organisation to help bring awareness about Suicide Prevention. The theme was "CONNECT" and I used a slogan that says how it might be difficult to connect the dots in your head but to connect with people instead. It encourages people to connect and talk with each other.
TOOLS USED
In this brief I used photography and photomontage to deliver the message to the viewer. I have used very strong graphics for this poster to make an impact, to stand out and to make viewer think. I combined the strong image with vector lines and dots which add to the overall message of the slogan to "connect the dots". The image has only one person on it which illustrates the 'isolation'.
Raising Awareness about Suicide
Prevention
PAGE HIERARCHY
I created a slogan " Sometime's it's difficult to connect the dots in your head. That's OK. Connect with people instead. Let's talk." as a way to tell the viewer it's OK to sometimes not be ok and its OK to talk about it. I positioned it on the left corner where the viewers eye will start reading it first. It has lot of white space around it for better readability and for it to stand out. The viewer is first attracted to look at the graphical image because it is unusual and grabs the attention with its dark blue tone on light background.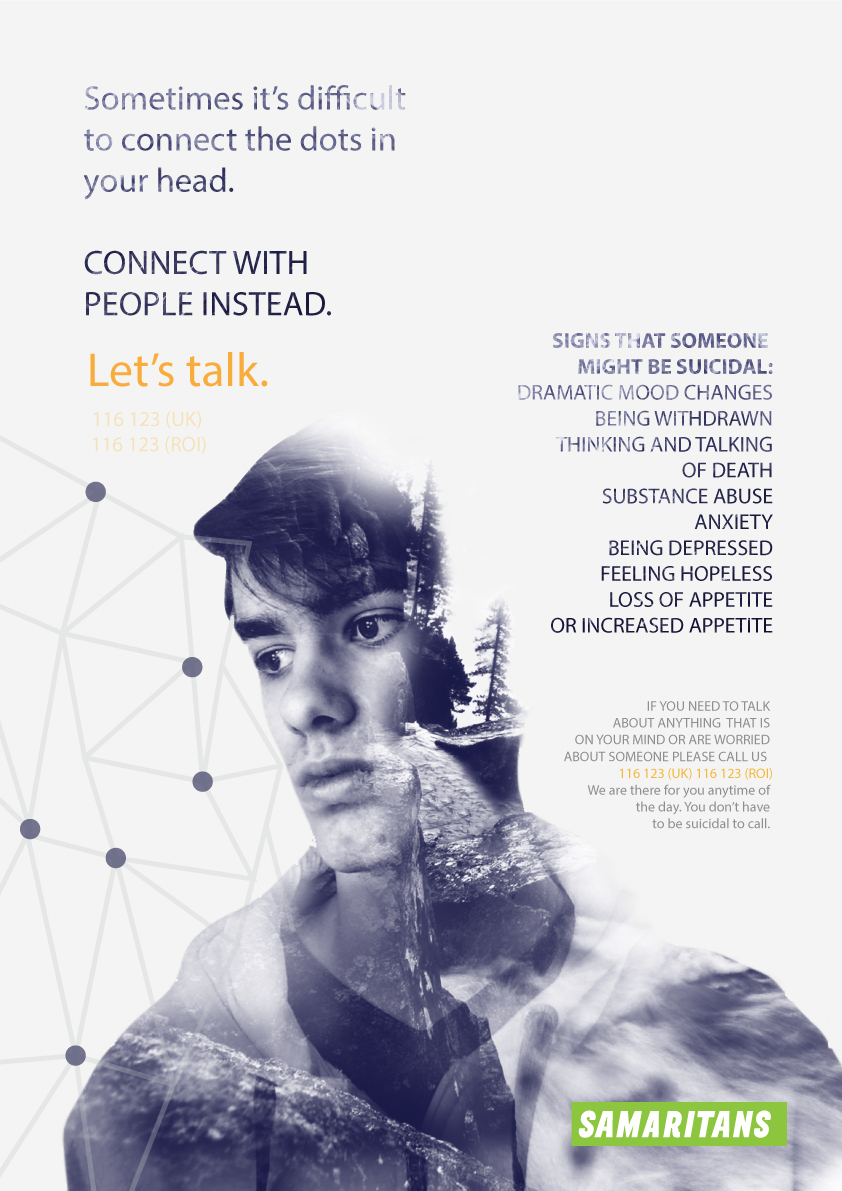 CONNECT THE DOTS ILLUSTRATION
It is made out of vector lines and dots and can resemble either city streets and going from one destination to another or the complicated brain network of nerve signals and how thought process is connected. But it can also mean how we are all connected as people or how everything in life is somehow connected. It can mean how there are different choices or how there are consequences. It is for the viewer to make their own interpretation of it. In the image the model is leaning and looking towards the vector lines which symbolises him thinking. On the other side of him is trees and nature that are meshed into him. It symbolises life and it's choices. How some parts of us may not be fully grown yet or how some parts of our life are not always perfect. But that is part of the life and the trees are beautiful and the nature keeps growing and flowing. And we should too.
his website layout is meant as parallax website which means it has continuous scrolling feature. It is a great way to add depth to the website.
Page hierarchy: On the top of the page, there are two images, one for the campaign to illustrate the 'isolation' which helps viewer to connect and understand they are on the right page after they have seen the poster. On left side there is an image in a circle of one of Samaritans's articles that offers hope with it's slogan. It is in orange colour to stand out better and under is is the "Contact us now" button. I have used buttons with smooth curves instead of sharp corners because it creates a more 'friendly' tone.
Page elements: I have taken current information from Samaritan's website and used it in my design.
The website is designed to work on laptop and tablet environment.